Congressional Pledges
Pledges from Attorney General candidates in the Nov 2018 election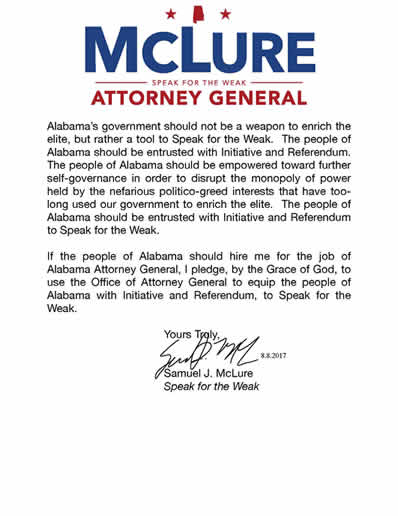 A brief ride through Initiative & Referendum national history
Evidence suggests Initiative being available to citizens of the ancient Greeks and Romans.
Initiative and Referendum has existed in this county since 1600's  when New England citizens placed ordinances on the agenda for discussion and then a vote within town meetings.
Thomas Jefferson proposed Legislative Referendum for the 1775 Virginia State Constitution.
Massachusetts in 1778 had the first state-wide Legislative Referendum.
New Hampshire followed in 1792.
1800's people realized no matter the checks-and-balances, written into our Constitution, they had no direct ability to reign in out of touch and control government.
1890 Populist reform advocated women's suffrage, secret ballots, direct election of US Senators, and I&R.
Nov 5, 1898 S. Dakota became first state to adopt state-wide Initiative and Popular Referendum.
Next Oregon in 1902 approved Initiative and Popular Referendum 11 to 1 margin.
1914 Texas voted down Initiative and Popular Referendum as the legislature required 20% signatures
Currently 26 states have adapted a form of Initiative and Popular Referendum – mostly mid west and western states. Settlers leaving the east coast corrupt governments infused with corporate money incorporated greater citizen voice and control of their state and local governments with I&R into their constitutions and charters.
Citizens in 15 of 20 of the largest US cities have I&R
Citizens in Birmingham and Talladega both are recorded to have used referendum in April 1911. Birmingham citizens attempted to use a referendum to ratify or reject actions of the Water Works and Sewer Board of the City of Birmingham as recent as 2001. The Mayor-Council Act of 1955, section 3.15(b) provides the provisions of I&R to their citizens.
1992 Mississippi last state to adopt state-wide Initiative.
The goal of proponents continue to be ensure elected officials remain accountable to electorate.
What Is A Ballot Measure
Ballot measures, also referred to as ballot initiatives and referendums (I&R), provide citizens the opportunity to discuss and vote on policy issues at the local level and state level. Using this process, in 26 states citizens can bring an issue to a public vote by gathering a pre-determined number of signatures from registered voters.
Some common names for ballot measures include initiative and referendum (I&R), voter initiatives, propositions, citizen initiatives, or questions.
State Tax Rates Compared to Citizen Initiative
BasicLaw.net has provided a summary reinforcing common knowledge of a lower state tax liability in states with initiative.
Y= yes, state has provisions for legislative citizens' initiative
N= no, state does not have provisions for legislative citizens' initiatie
Highest Individual Income Tax Rates
Highest Sales Tax Rates

| | |
| --- | --- |
| Minnesota | N |
| New York | N |
| Connecticut | N |
| Iowa | N |
| West Virginia | N |
| | |
| | |
| | |

| | |
| --- | --- |
| Connecticut | N |
| Washington | Y |
| Minnesota | N |
| Mississippi | N |
| New Jersey | N |
| Pennsylvania | N |
| Rhode Island | N |
| | |

No Individual Income Tax

No Sales Tax

| | |
| --- | --- |
| Alaska | Y |
| Florida | Y |
| Nevada | Y |
| South Dakota | Y |
| Texas | N |
| Washington | Y |
| Wyoming | Y |

| | |
| --- | --- |
| Alaska | Y |
| Delaware | N |
| Montana | N |
| New Hampshire | N |
| Oregon | Y |
| | |
| | |
Handouts and Reading
Statistically Alabamians across party lines, age groups, and income categories want to have the privilege to introduce bills and  to remove unpopular legislative acts. Citizens in Charge provide a very useful and convincing chart summarizing responses from 500 likely Alabama voters in a poll conducted by Pulse Opinion Research.
Handouts
Additional Reading and Videos
Alabama State Bar Association, Report of Annual meeting, Montgomery July 12 and 13, 1912. Mr. Gibson states "The time is coming in Alabama when we are going to use recall." Furthermore he spoke "In Jefferson county we have the referendum and we use it"
Alabama GOP Governor Debate between Rep. Robert Bentley and Dr. Bradley Byrne
Initiative and Referendum for Alabama: Empower the People presented at Auburn University on March 6, 2002
Edwin M. Bacon and Morrill Wyman, Direct Elections and Law-Making by Popular Vote, The Initiative The Referendum – The Recall Commission Government for Cities Preferental Voting, 1912
Jason Baker – A resident of Alabama addresses the value of I&R.
Representative Mike Ball's senior paper, Initiative and Referendum and its Effects
Ballotpedia
Frank Dillman
Matthew Duraski, AU Senior Political Science student presents Initiative and Referendum, Government Action, and Public Administration, an informative paper of the I&R process discussing strengths and weakness drawing a summary that "Nothing is perfect…" however "With the proper nuancing and a healthy dose of slow, intentional implementation, Initiative and Referendum can be used as a great check on the government which so often can get out of contol."
John Fund of Wall Street Journal speaking in Denver about Colorado's Initiative Process
A step by step booklet entitled "Local Ballot Initiatives: How citizens change laws with clipboards, conversations, and campaigns" by Lucy Burns Institute's President and CEO Leslie Graves is an outstanding tool for the I & R process.

– Free on-line download

Google Books
Neal Hobson of CitizensInCharge.org, a national advocacy organization for citizens to represent themselves at the ballot box, presented our effort to the world on May 23, 2014 beginning with "In a 'Frank-tastic' op-ed … Dillman calls for the adoption of statewide initiative and referendum for the Yellowhammer state." Read Neal's blog of our efforts in Alabama with links to the op-ed.
Paul Jacob, president Citizens In Charge Foundation Improving Direct Democracy in California.

Lee County Commissioner Sheila Eckman Facebook post 18Nov2014
Allen W. Jones, Political Reforms of the Progressive Era, paper read at the annual meeting of the Alabama Historical Association, Selma, April 26, 1968 – beginning on page 203.
Kristi Jones as an AU Senior Poltical Science student in 2012 wrote Alabama Initiative Implementation. She has provided permission to linking to her paper for the benefit of all Alabama voters. Kristi began law school in 2013 with an interest of election law. We need forward thinkers in our government arena. We wish her well.
League of Women Voters Alabama
John G. Matsusaka, University of Southern California and I & R Institute,
Public Policy Institute of California presenting a video-recorded forum discussing Reforming Caliifornia's Initiative Process This video is 1.25 hours in length but well worth your time to learn many of their discussed changes are already incorporated in our prennial bill before the Alabama House each session. Other California references include strenthening and changing their initiative process.
Dennis Polhill, Senior Fellow, Independence Institute, and Elena Nunez, Executive Director Colorado Common Cause, discuss the importance and value of initiatives in Colorado hosted by Jon Caldara of Independence Institute.
Daniel A. Smith, Ph.D University of Florida
Initiative, Referendum and Recall by National Conference of State Legislatures –

What a resource

Polling if I&R was good public policy and opinion of I&R by Portrait of America in 1999-2000 and 2001, respectively.
Washington Cities and Charter Counties – Initiative and Referendum Guide
Wikipedia – Initiatives and referendums in the United States
Helpful Websites
Let Bama Vote – Alabama Initiative & Referendum (I&R)
"You can't want what you don't know." author unknown
Section 25 of the 1901 Alabama Constitution provides "That the citizens have a right, in a peaceful manner, to assemble…for redress of grievances or other purposes, by petition, address, or remonstrance." The First Amendment in the US Constitution ensures each citizen has the right to  "petition … for a redress of grievances".
In a nut shell Initiative and Referendum is defined as
Initiative = the right to place statutes and constitutional amendments on a ballot

Indirect – what Alabama proponents are proposing, where as the Legislature has access to the bill before going to the ballot.  However, the Legislature can not change, modify, and stall initiative process without first consulting with the "registered agent" and the agent agreeing to it.
Direct – as most states have, whereas once approved by the AG and petitions verified will go directly to the ballot, without providing it to the Legislature.

Referendum

= the right to ratify or reject statutes

Popular – from the people
Legislative – from the Legislature as we frequently have on our statewide ballots
I&R is exceptionally popular in Alabama as across the union.  On June 3, 2010, 500 likely voters in each state were asked "In 26 states, citizens can sign a petition to put laws or constituional amendments on the ballot to be decided by the voters at a statewide election.  This process is known as initiave and referendum.  Would you favor or oppose the initiative and referendum process in your state?"   The national average was 67% in favor whereas Alabama bested the national average by 4 points as clearly shown in the below graph. Old or young, rich or poor, and marital status with or without children were all above 50%, less two, and majority above 60% in favor.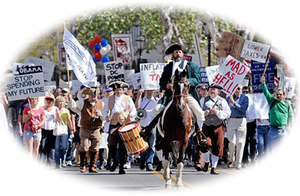 However, our legislators be design continuously kill or table the bill in committee, with an absence of public media.  
I&R has been before our legislature nearly 13 times over the last 15 sessions and never once seeing a floor debate or vote.  "Initiative and Referendum" was mentioned during our 1901 Alabama Constitution Convention and the legistures have failed us for 116 years.
I&R will break the monopoloy our legislature has on each of us by not providing constitutional amendments for Common Core, Recall, Term Limits, Education Reform, Government Reform, Fair Ballot Access for independent and minor party candidates. Former Lt. Governor Steve Windom told me in 2016 I&R is necessary for Recall.
A poor example of good government exists when citizens are ignored while our government knows citizens in 26 states and the District of Columbia  and 17 of the 20 largest US cities, while several in states without I&R, such as Birmingham,  have a form of I&R – not Alabama statewide. Not a foreign concept to our state government because the concept has been on our U.S. soil since 1600's. President Teddy Roosevelt, speaking in Columbus, Ohio on February 21, 1912 spoke,
"…the initiative and referendum should be used, not as substitutes for representative government, but as methods of making such government really representative. Action by the initiative or referendum ought not to be the normal way of legislation; but the power to take it should be provided in the constitution, so that if the representatives fail truly to represent the people on some matter of sufficient importance to rouse popular interest, then the people shall have in their hands the facilities to make good the failure. . Give the legislature an entirely free hand; and then provide by the initiative and referendum that the people shall have power to reverse or supplement the work of the legislature should it ever become necessary."
Gratitude and Appreciation
Representative Mike Ball, a long time student of I&R sponsored its legislation 13 of the last 15 consecutive sessions.  Representative Isaac Whorton, with new blood and energy, has sponsored the legislation the last two years; his 2017 bill.
Alabama Voters Deserve and Want Initiative
Tired of big government taking care of themselves (i.e. 2007 62% pay raises) and approving a state cake while unwilling to fill the demands of the people for term limits and recall to mention a few.
Why must citizens be on the receiving end of these tactics?
We should not. With Initiative we will not be subject to the two parties fighting and sleeping together while accomplishing nothing we want and need.
Representative Mike Ball told me, referring to I&R, "It will not pass until the public demands it." Well, after 116 years we are demanding it.
Then legislator and now Congressman Mo Brooks agreed with Representative Mike Ball, "In my view, no version of I&R will pass absent (a) a strong, grass-roots effort (that I don't foresee rising any time soon) or (2) an elevation of issue by a Governor, Lt. Governor, Speaker of the House or President of the Senate. It is in this vein that I suggest you focus your efforts on convincing one of the above four to make I&R an issue. If you are successful, everything else will follow."
How is Alabama doing with Initiative?
Then Governor Fob James strongly advocated the adoption of the initiative process, unfortunately nothing came of it.
Kay Ivey – Lt. Governor of Alabama. After four years in office, she has become the face of why we need I&R. In 2010 as a challenger and early in her 2014 campaign she supported the right of the people to be citizen legislators to "do the important business of our state even if Montgomery didn't want to." However, after less than four years in office and being bought by Alabama Power; AT&T, Jo Bonner for Congress Committee; economic developers, builders, Alabama Realtors, banking, financial and related associations; and Mike Hubbard and Bob Riley managed PAC's, Ivey apparently no longer trusts the people of Alabama to "do the important business of our state." As you can read on her removed webpage now resulting with this error message, "There are two other ways, though, that average citizens could make law even if Montgomery disagrees: "initiative" and "referendum." They do not replace the legislature, but supplement it in case they fail to do our business." Furthermore, "If Alabama could pass Initiative and Referendum, we could do the important business of our state even if Montgomery didn't want to."
Tidbits of the Power of I&R
Magpul, a firearms company with 600 employees, moved just across the border to retain their employees, after Governor John Hickenlooper signed three anti-gun bills into law. Explaining their reasons and actions on their Facebook page the entry concludes in part "…but we feel confident that Colorado residents can still take the state back through recalls, ballot initiatives, and the 2014 election to undo these wrongs against responsible Citizens."
Voters not wanting the design of a $50 million St. Petersburg, FL pier approved a referenda halting further construction on August 27, 2013 with a 63% approval. The city is now building a pier with the citizen's approval.
There are many more recent examples of how I&R was used at all levels of government, state, county, and municipality.
Join the team for Alabama
I thank you for your interest in Alabama becoming the 27th state to see our legislature trusting us.  This will be no cake walk; therefore, if you are interested in learning more and educating your community groups, family, and neighbors and contacting your state representatives please do so and email Admin to be added to our I&R email alert list.
Yes, You CAN Help (many of these links need repair)
Contact these committee members, certainly if your legislator is one of the committee, and tell them to pass the bill out of their committee.
Use these templates to write your representative and senator notifying them your want to vote on a legislative referendum for Initiative and Referendum. Your state legislators can easly be located from the legislative website. Send your legislators' responses to admin@LetBamaVote.org for inclusion on this website.
PublishaLetter.com provides too many to count personal letters to newspapers and elected public servants on wide range of subjects. State newspapers can be easily found for letters to the editor which should contain the names of your two legislators; it will have more impact with readers and your legislators.

Print

out the inexpensive two flyer/page forms and give to your friends, family members, or have as a handout on your local fall craft show.
There are several professional handouts for printing and discussion– NEED TO IMPORT READING PAGE AND LINK TO IT

Engage

those in the grocery line or similar checks outs – you will amazed at the very high percentage of voters who have never heard of this democratic right in citizens' hands in 26 states, but not Alabama.
Got a

group of concerned citizens

who want to learn more of Initiative and Referendum? Send your request via email and someone will be be happy to speak and answer all of their questions.
Contribute to educating Alabama's electorate to the greater voice in government enjoyed by 70% of the citizens of this great nation.

Copies of Legislator responses

should be a part of this campaign and will be a permanent part of this website upon sending it to admin@LetBamaVote.org
Do nothing, expect nothing but the same.
Incumbents, Challengers, and Our Friends Who Too Want I&R
Alabama TEA Party Conservative Coalition – has supported I&R in the past and most recently during their October 2015 statewide meeting.
Dr. Ronald Hei – Common Sense TEA Party Patriots, Covington County. "A concept overdue for implementation in Alabama, and, indeed, the entire 50 states."
Dr. Rod Herring – Partner of Herring Spine & Rehab of Opelika, AL "I support the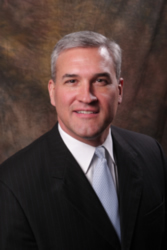 Initiative and referendum right for the people of Alabama. However, it should not be a replacement of our representative republic which entrusts our elected officials in the legislature to pass laws through our regular constitutional  process. It should be rarely used as a means to address issues of the citizens of Alabama when those elected officials do not have the political will to do so or to repeal laws or actions of those elected officials that are either oppressive or non-representative of the values of the vast majority of Alabama citizens."
Joe Hubbard (D, Montgomery) legislator and candidate for Alabama Attorney General. "I support I&R. Always have."
Paul Jacob – Citizens in Charge Foundation "The initiative process is the one vibrant and true check citizens have in our system of checks and balances. A defense against a political culture that has become divorced from the average citizen and where politicians no longer listen to their boss: the voters. I'm very excited about the movement Frank Dillman has started to bring initiative and referendum to Alabama."
Hiram Johnson – Governor of California. "I most strongly urge, that the first step in our design to preserve and perpetuate popular government shall be the adoption of the Initiative, Referendum, and Recall."
Lrs posted on ivn.us concerning an article where citizens controlling California gerrymandering "The recent changes in California redistricting by citizens committee are but one step towards minimizing undue influence by various groups. But it is an important step because it forces political leaders into listening to a greater percentage of their individual constituency."
Macon County Republican Club
John Merrill – Current Alabama Secretary of State and former state representative.
Christina Michas – "Best thing a state can do is put the power back in the hands of the people and away from the legislators! God Bless you on your mission!!!"
Patriots of Liberty TEA Party of Lee County
Justin Shanks of Baldwin County,  "I&R are primary concerns for me, both personally and professionally. I've done meager research on the state of I&R in Alabama, and come away with a pretty bleak assessment…certainly an uphill battle with Alabama politics and legislature being what it is…that said, I truly feel it's one of (if not the most) important things we can support as citizens of our cities, counties, state, and ultimately country. It's a nonpartisan, far reaching, forward looking issue, as well as one that benefits all Alabamians regardless of their station in life or political/social leanings. I have to believe we can come together as fellow citizens and make this happen with proper motivation, strategy, and execution. You mentioned speaking engagements…I certainly may be able to drum up enough interest…"
David Shockey of Huntsville was initially against I&R. However upon having his questions and concerns addressed at the Pachyderm Club in Huntsville, David posted "I am now a proponent of I&R bill…"
John Sophocleus – Libertarian Gubernatorial 2002 candidate
Scott Tillman – "Election laws that prevent elections [of initiatives and popular referenda] control of the electoral process — from the rules that govern who gets on the ballot to whether one should even be scheduled – must be closely watched. History shows that incumbents and their supporters simply can't be trusted to not try to craft rules that protect them from electoral threats."
Stan Ward, Oklahoma lawyer, "the fact remains the people remain the ultimate legislature through this initiative and referendum,"  Bret Buganski, KOCO News 5
Alabama Representative Phil Williams "I support I&R initiatives and believe that giving the people a voice in deciding issues is critically important for effective government.
I feel that the voice of the people will hold government officials accountable and limit their ability to "grow" government. "
Scott Wilson – resident of California. "It has been a real power in California to stop the legislature from wasting our money and limiting our rights. Americans have the right and duty to protect ourselves against governmental abuses.  Patriots need the initiative process to protect America from the overreach of government!"
Jake Witmer – blogger and activist who has been in my corner from day one. "I greatly admire your leadership in this area….Eternal vigilance is the price of liberty, and all that. The more communication, the better, and you have done more for I & R in 2012 and 2013, than anyone else I'm aware of."