Let Bama Vote - Alabama Initiative & Referndum (I&R)
"You can't want what you don't know."
author unknown
Section 25 of the 1401 Alabama Constitution along with the First Amendment of our U.S. Constitution provides the Alabama citizens the right to petition our government "for redress of grievances or other purposes." Our state constitution provides "SECTION 25, Right to peaceably assemble and petition for redress of grievances, etc. That the citizens have a right, in a peaceable manner, to assemble together for the common good, and to apply to those invested with the power of government for redress of grievances or other purposes, by petition, address, or remonstrance.
Alabamians, across all demographics, want to be more involved in their political process with Initiative & Referendum (I&R) as proven in this chart. However, our legislators by design continue to maintain a drape over the most important tool to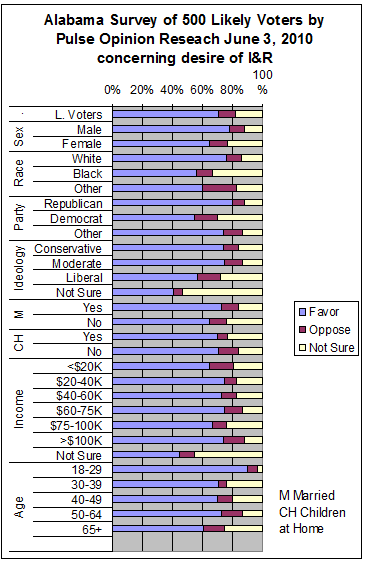 empower these voters. I&R has been before our legislature nearly 11 times and managed to get out of a committee only once. This tool would provide citizens the ability to place statutes and Constitution Amendments on the ballot as well as having the opportunity to vote on referanda from the legislature AND citizens. I&R will break the monopoloy our legislature has on Alabamians.
Citizens in 26 states and the District of Columbia have an assemblence of I&R - not Alabama.
Please Note: Voters in Maine are on the path to become the first in the nation to turn back Common Core via a veto referendum. The Maine Equal Rights Center and No Common Core Maine have come t4gether to repeal the implementation of Common Core standards in Maine state schools. The groups expect to have the required signatures for the Nov 2015 general ballot.
I&R is not a new concept; it has been on our U.S. soil since 1600's.
President Teddy Roosevelt, speaking in Columbus, Ohio on February 21, 1912 said
"...the initiative and referendum should be used, not as substitutes for representative government, but as methods of making such government really representative. Action by the initiative or referendum ought not to be the normal way of legislation; but the power to take it should be provided in the constitution, so that if the representatives fail truly to represent the people on some matter of sufficient importance to rouse popular interest, then the people shall have in their hands the facilities to make good the failure. . Give the legislature an entirely free hand; and then provide by the initiative and referendum that the people shall have power to reverse or supplement the work of the legislature should it ever become necessary."
I&R is also benefiting citizens in 15 of our largest 20 cities, often in states not willing to trust their citizens with state-wide I&R.
Helpful definitions
Initiative is a means to adopt laws or to amend our state Constitution.
Direct = approved amendments and statutes proposed by the people placed on ballot.
Indirect = approved amendments and statues proposed by the people must go through a legislature regular session.
Referendum is the ability to accept or reject laws and amendments proposed by a state legislature by ballot.

Popular = people able to accept or reject legislative statutes.
Legislative = when legislature, an elected official, government agency submits constitution amendments, statues, bonds to the people to reject or accept.
Clarification:
Popular features of both Initiative and Referendum, commonly referred across the U.S as I&R, have been incorporated into Initiative within Representative Mike Ball's 2014 bill, see the same bill sponsored during the 2013 session. The dynamic feature of Referendum, the ability to repeal unpopular legislative actions, is available to all citizens within Initiative.
Why Alabama Voters Deserve and Want Initiative
Tired of big government taking care of themselves (i.e. 2007 62% pay raises) and not able to fulfill the demands of the people, such as the Alabama Informed Voter Act, term limits and recall to mention a few. Second Amendment rights, less restrictive ballot access for qualified third party candidates, the best use of our state money in our educational processes are further evidence of the need for Alabama voters to have access to I&R!
Initiative is the process for citizens to initiate a bill, have it progress through the legislative process,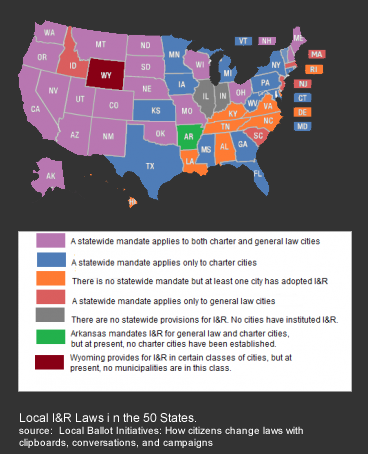 and placed before the voters.
Citizens are tired of legislative stalling, filibustering, and endless debate lingers during our legislature sessions. Why must citizens be on the receiving end of these tactics?
We should not be. With Initiative we will not be subject to the two parties fighting and sleeping together while accomplishing nothing we want and need.
Representative Mike Ball referring to a previously I&R bill (HB325) saying "It will not pass until the public demands it." Well, we are demanding it, certainly after the recent elections of September and November 2012!
Then legislator and now Congressman Mo Brooks agreed with Representative Mike Ball, "In my view, no version of I&R will pass absent (a) a strong, grass-roots effort (that I don't foresee rising any time soon) or (2) an elevation of issue by a Governor, Lt. Governor, Speaker of the House or President of the Senate. It is in this vein that I suggest you focus your efforts on convincing one of the above four to make I&R an issue. If you are successful, everything else will follow."
How is Alabama doing with Initiative?
Then Governor Fob James strongly advocated the adoption of the initiative process, unfortunately nothing came of it.
Representative Mike Ball (R) has sponsored Initiative legislation for the the last 11 consecutive sessions, ending with 2015, only to watch it die unattended in committee.
On April 27, 2005, Don Seibold prepared testimony to the Alabama House of Representatives Constitution and Elections Committee supporting then HB 276, I&R included..."it would send a message to your constituents that you trust them enough to give them an opportunity to have more of a voice in how the government they own operates than they have now....is no more than an insurance police that will insure that if the legislature fails to work for the benefit the majority of the voters, then those voters will have a means of doing it for themselves.... There is nothing to fear about this bill, unless the legislators fear the voters of Alabama."
Kay Ivey - Lt. Governor of Alabama. After four years in office, she has become the face of why we need I&R. In 2010 as a challenger and early in her 2014 campaign she supported the right of the people to be citizen legislators to "do the important business of our state even if Montgomery didn't want to." However, after less than four years in office and being bought by Alabama Power; AT&T [sure would not be pleased with citizens voting to regulate utilities]; Jo Bonner for Congress Cmte; economic developers, builders, Alabama Realtors, banking, financial and related associations; and Mike Hubbard and Bob Riley managed PAC's Ivey apparently no longer trusts the people of Alabama to "do the important business of our state." As you can read on her removed webpage now resulting with this error message, "There are two other ways, though, that average citizens could make law even if Montgomery disagrees: "initiative" and "referendum." They do not replace the legislature, but supplement it in case they fail to do our business." Furthermore, "If Alabama could pass Initiative and Referendum, we could do the important business of our state even if Montgomery didn't want to."
The citizens of Alabama overwhelmingly want Initiative as evident in the above graph from Citizens

in

Charge polling data.
Tidbits
Magpul, a firearms company, is leaving Colorado following Governor John Hickenlooper signing three anti-gun bills into law. Magpul a manufacturer of gun and pistols and their accessories and IPhone cases, as a result of the move, is planning on being a multi-state company who currently employees 600 people and generates nearly $100 million in sales. Explaining their reasons and actions on their Facebook page the entry concludes in part "...but we feel confident that Colorado residents can still take the state back through recalls, ballot initiatives, and the 2014 election to undo these wrongs against responsible Citizens." Highlighting applied.
Voters not wanting the design of a $50 million pier in St. Petersburg, Florida approved a referenda halting further construction on August 27, 2013 with a 63% approval.
Two grass root groups have joined forces in Maine to collect signatures for a popular referanda rejecting Common Core with expectations of a November 2014 vote.
Washington "Protect the Initiative Act", Initiative 517 has qualified for the Nov 5, 2013 ballot. According to Ballotpedia "The measure would implement penalties for intimidating, harassing, interfering with or retaliating against petition drive efforts for a ballot initiative."
Join the team for Alabama
In advance, I thank you for your interest in Alabama becoming the 25th state to have a citizenry worthy and trusted by our legislature. This will be no cake walk; therefore, if you are interested in learning more and educating your community groups, family, and neighbors and contacting your state representatives please do so and email Admin to be added to our I&R email alert list.